Toll free customer service 704-847-0691
Converse Chuck Taylor All Star Hi Top Custom with Clover - St. Patricks Day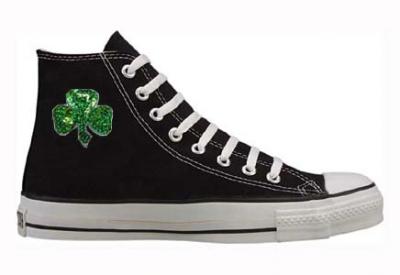 The shoes are available in Unbleached White (off white), black, black monochrome, and navy. When you order this shoe please write the color you want in the Instructions secton!
Converse Chuck Taylor All Star Hi Top Custom with Clover - St. Patrick Canvas Shoes STP. Custom returns will not be given full credit. Shoes are made specifically for you. This embroidery application is done once you place your order. Please be sure of size and color before ordering.
All custom orders are prepared individually for you, the customer, by using a first quality Converse Chuck Taylor All Star. After you purchase this shoe, it will be silk screened or an indirect embroidery application will be applied for a unique customized All Star. Converse Inc. has not endorsed nor assumes any liability in approval or authorization, in the selling of this customized product.
SKU: Stp
Buy Now
you might also like